Would you like to become a sponsor?
Waldorf News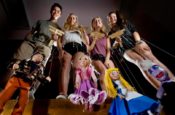 August 14, 2017
At the K-12 Waldorf School of Orange County in Costa Mesa, students of all ages practice art as a way to enhance and support their academic learning. These performing experiences become markers for their grade level as well as their academic maturity. As they work toward the final goal of producing a full-length play in their senior year, the students have slowly gathered skills, through public presentations of monologues in 11th grade, poetry in 10th grade and a marionette puppet show in ninth grade. "I remember sitting in the front row when I was in first grade and watching the upper grades," said Nadia Amirmokri, 15. "It's a tradition that we've been waiting eight years for." Students in the lower grades make and use rudimentary shadow puppets and table-top puppets during class. The more complex marionettes are introduced once they have completed courses in biology and anatomy. "The ninth-graders study the structure of the physical body," said development director Denise Ogawa, "which makes a connection to the marionette project in art because they are creating a physical body that moves." More »
Recent Jobs
View more jobs »
Newsletter Archive
Join the Mailing List!
Stay Connected…
Each week receive the Waldorf News Weekly Update, full of news, events, and more. Keep abreast of what's happening with Waldorf education.
Add a Job Listing
Waldorf Gallery

Featuring over 900 images of student work from around the world.
Browse images »