Would you like to become a sponsor?
Waldorf News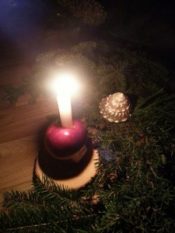 November 27, 2017
It was in mid-November that a challenging bullying issue arose in my fourth grade class. There were no physical threats, but one boy with an especially sharp tongue was hurling insults at a sensitive and insecure classmate whenever he had the chance. Loki's vituperative downfall would not be part of our story content for several more months, and I had to take some measures immediately. Having been asked to speak at the Green Meadow Waldorf School's Advent Assembly, I created this "pedagogical story" for the school, for my class, and especially for the bully and his victim. There are "experts" who claim that telling pedagogical stories is no longer an effective antidote to social problems, but I beg to differ. Try this story for yourself. More »
Recent Jobs
View more jobs »
Newsletter Archive
Join the Mailing List!
Stay Connected…
Each week receive the Waldorf News Weekly Update, full of news, events, and more. Keep abreast of what's happening with Waldorf education.
Add a Job Listing
Waldorf Gallery

Featuring over 900 images of student work from around the world.
Browse images »