Would you like to become a sponsor?
Waldorf News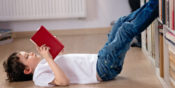 September 23, 2016
I remember few details from kindergarten: a giant slide in the middle of our classroom, a mid-year visit by Smokey the Bear, the gentle voice and red hair of my teacher. Kindergarten was its own little world within the school — a nurturing cocoon — with its own special playground, its own tiny buses, its own half-day schedule. This spring when my son's wonderful teacher recommended an additional year of preschool for him, instead of advancing with the rest of his class to kindergarten, I didn't panic. After all, the school he was attending was small and academically challenging, and I understood he might not be ready for its particular standards. The teacher's concerns — that he had trouble writing his letters, didn't focus all the time in class, didn't answer questions about literature with enough detail — didn't worry me much. He was four. Just a little boy who liked garbage trucks and Sesame Street. We were moving to the suburbs anyway, and I figured my son would do just fine at our local public school, where he would spend his days listening to stories, playing in sandboxes, making friends, and learning the basic routines of classroom life. Months after this conversation with his teacher, I realized that my son would probably do just fine in public school kindergarten, but only if he could go back in time and attend kindergarten in 1980, not 2016. My son is not ready for kindergarten in 2016. More »
Recent Jobs
View more jobs »
Newsletter Archive
Join the Mailing List!
Stay Connected…
Each week receive the Waldorf News Weekly Update, full of news, events, and more. Keep abreast of what's happening with Waldorf education.
Add a Job Listing
Waldorf Gallery

Featuring over 900 images of student work from around the world.
Browse images »