Would you like to become a sponsor?
Waldorf News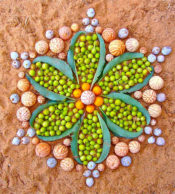 October 16, 2017
In difficult times such as these with environmental disaster of almost unprecedented scale and concern about friends and others in Japan at the forefront of our thoughts, it is not easy to feel the goodness in life. In an external crisis, our urge is often to listen and see the news and to share our feelings with other adults. As a consequence, it is easy for the children around us to be exposed to things that they cannot understand, to become fearful about situations they will never see and cannot change even if we think that the media or adult conversations are not attended to by the children. Even pre-verbal children can sense profoundly the distress in our inner being. But nothing brings stamina for life and daily well being to our children more directly and strongly than surrounding them and immersing them into an atmosphere of goodness and joy. For us as adults, the message they seek from us is this: I am happy to be alive, I am interested in the world around me and I want to find a place for myself within it. Children are born with an openness to meet what their lives will bring. Despite their individual destinies and challenges, this openness is present and as the adults in the child's world, we have tremendous potential to cultivate this openness. More »
Recent Jobs
View more jobs »
Newsletter Archive
Join the Mailing List!
Stay Connected…
Each week receive the Waldorf News Weekly Update, full of news, events, and more. Keep abreast of what's happening with Waldorf education.
Add a Job Listing
Waldorf Gallery

Featuring over 900 images of student work from around the world.
Browse images »