Would you like to become a sponsor?
Waldorf News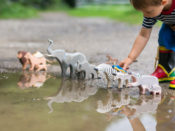 May 16, 2017
I continue to be amazed by young children, their wonder and joy for life is infectious. However, they are still just landing and growing so rapidly. Four years of life go quickly for us as adults and yet for many of our children they were just a parent's dream. I have been thinking about this quality of play and imagination that live so deeply in young children. It is a precious gift and one that is not offered at any other time in a human being's life. How do we as a culture and as parents and caregivers honor and support this time of childhood? More »
Recent Jobs
View more jobs »
Newsletter Archive
Join the Mailing List!
Stay Connected…
Each week receive the Waldorf News Weekly Update, full of news, events, and more. Keep abreast of what's happening with Waldorf education.
Add a Job Listing
Waldorf Gallery

Featuring over 900 images of student work from around the world.
Browse images »