Would you like to become a sponsor?
Waldorf News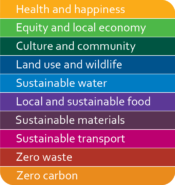 February 14, 2017
Next month, Credo High School in Rohnert Park, California, will move to its permanent campus within SOMO Village, a groundbreaking sustainable community planned by Brad Baker of SOMO Village, LLC and the international nonprofit, One Planet Communities. SOMO Village intends to be the model sustainable community for North America. Locating Credo High within SOMO Village has always been the intention of Credo developers, who believe that housing their students within the sustainability guidelines of SOMO Village will develop and deepen students' own values around the many aspects of sustainability. In addition to 1600 homes, the 200-acre, live-work development will include green businesses, a 250-unit retirement community of the San Francisco Zen Center, playing fields, music venues, arts organizations and 25 acres of farmable land. Credo has been approved to become the world's first One Planet School. Moving to SOMO Village is the culmination of a nine-year plan by Credo developers. Credo will convert an existing 35,000 sq. ft. portion of a building that was recently a business incubator and once a Hewlett Packard research facility into their school campus. More »
Recent Jobs
View more jobs »
Newsletter Archive
Join the Mailing List!
Stay Connected…
Each week receive the Waldorf News Weekly Update, full of news, events, and more. Keep abreast of what's happening with Waldorf education.
Add a Job Listing
Waldorf Gallery

Featuring over 900 images of student work from around the world.
Browse images »