Would you like to become a sponsor?
Waldorf News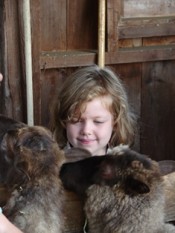 March 9, 2014
The Land Stewardship Program at the Hartsbrook School has, like the school itself, grown out of the very soil upon which this school is planted. More than 20 years ago, the fledgling program was slowly finding its way into the life and learning of our students, beginning as field trips to a local bio-dynamic farm (Brookfield Farm CSA) to join in a variety of seasonal planting and harvesting activities, then expanding to other area farms, patiently waiting for the opportunity where a full program could start to be realized at the school itself. Fast forward to today, with an almost full curriculum in place that encompasses the kindergarten, elementary, middle and high school, supporting students as they work and learn about the many pressing issues that affect our relationship with the earth. More »
Recent Jobs
View more jobs »
Newsletter Archive
Join the Mailing List!
Stay Connected…
Each week receive the Waldorf News Weekly Update, full of news, events, and more. Keep abreast of what's happening with Waldorf education.
Add a Job Listing
Waldorf Gallery

Featuring over 900 images of student work from around the world.
Browse images »