Would you like to become a sponsor?
Waldorf News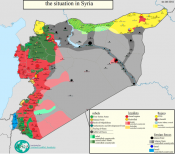 September 3, 2015
One of the foremost cartographers of the Islamic State conflict is a 19-year-old Waldorf graduate from Amsterdam. Now that he's graduated from high school, he's preparing to take his activism to the next level. Thomas van Linge is a 19-year-old Dutch cartographer and activist. Islamic State fighters have conquered Rahabi in Iraq. They control the Libyan coast near Sirt. In Syria, they just lost Tall Abyad to the Kurds, but are spreading out in the center of Palmyra. Thomas van Linge is keeping an eye on their movements. The 19-year-old wears a hoodie and, although he only just graduated from high school, he already knows better than most people where the Jihadists are heading, which areas they are occupying and where they've been beaten back. That's because van Linge makes some of the world's best maps of chaotic war zones from the desk of his childhood bedroom in Amsterdam. He has never been to Syria, Iraq or Libya, and he learned Arabic on YouTube. More »
Recent Jobs
View more jobs »
Newsletter Archive
Join the Mailing List!
Stay Connected…
Each week receive the Waldorf News Weekly Update, full of news, events, and more. Keep abreast of what's happening with Waldorf education.
Add a Job Listing
Waldorf Gallery

Featuring over 900 images of student work from around the world.
Browse images »