Would you like to become a sponsor?
Waldorf News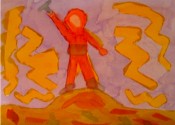 April 6, 2014
The child explores color through his feeling life. How far does the lively, joyous yellow wish to radiate into the surrounding white? How happily and safely protected it feels when surrounded by blue, if their meeting leads to a delicate merging of each, producing a third color, green, which is not dense or heavy, but more like a gentle bridge between its two "friends". Or, in a different exercise, one might begin with green (pre-mixed) as the first step taken by the colors in "building a house". The green lays itself down evenly across the bottom to be the floor of the house, measured in an amount suitable to the page as a whole. The bright, active red comes to its rightful place, sitting in the middle on the green floor while also arching above to form the walls and roof! Now yellow and blue contribute their part. And what do they offer their two friends and each other in this story? The teacher's task will be to embody the conversations of the colors with each other in a language felt and understood by the children. More »
Recent Jobs
View more jobs »
Newsletter Archive
Join the Mailing List!
Stay Connected…
Each week receive the Waldorf News Weekly Update, full of news, events, and more. Keep abreast of what's happening with Waldorf education.
Add a Job Listing
Waldorf Gallery

Featuring over 900 images of student work from around the world.
Browse images »