Would you like to become a sponsor?
Waldorf News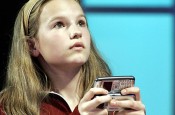 October 25, 2014
All of this has unmistakable implications for the use of technology in classrooms: When do technologies free students to think about more interesting and complex questions, and when do they erode the very cognitive capacities they are meant to enhance? The effect of ubiquitous spell check and AutoCorrect software is a revealing example. Psychologists studying the formation of memories have found that the act of generating a word in your mind strengthens your capacity to remember it. When a computer automatically corrects a spelling mistake or offers a drop-down menu of options, we're no longer forced to generate the correct spelling in our minds. This might not seem very important. If writers don't clutter their minds with often-bizarre English spelling conventions, this might give them more energy to consider interesting questions of style and structure. But the process of word generation is not just supplementing spelling skills; it's also eroding them. When students find themselves without automated spelling assistance, they don't face the prospect of freezing to death, as the Inuits did when their GPS malfunctioned, but they're more likely to make errors. More »
Recent Jobs
View more jobs »
Newsletter Archive
Join the Mailing List!
Stay Connected…
Each week receive the Waldorf News Weekly Update, full of news, events, and more. Keep abreast of what's happening with Waldorf education.
Add a Job Listing
Waldorf Gallery

Featuring over 900 images of student work from around the world.
Browse images »