Would you like to become a sponsor?
Waldorf News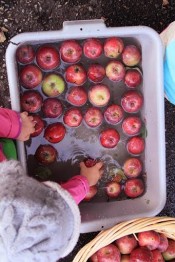 December 7, 2014
Six wooden chairs, arranged in a circle and draped with a quilt, have become a pirate ship. At the helm, a boy turns a basket from side to side like a steering wheel. One of his passengers makes ocean sound effects. Another only meows, because he has transformed into a cat. Meanwhile, a girl sits behind a small toy stage asking, "Who wants to see a puppet show?" Several children meander over to watch, while others regale the teacher with stories as she knits. In the kitchen, an adult in a red apron chops vegetables for snack as the scent of baking muffins fills the air. Another red-aproned adult sands wooden blocks, observing the children play. More »
Recent Jobs
View more jobs »
Newsletter Archive
Join the Mailing List!
Stay Connected…
Each week receive the Waldorf News Weekly Update, full of news, events, and more. Keep abreast of what's happening with Waldorf education.
Add a Job Listing
Waldorf Gallery

Featuring over 900 images of student work from around the world.
Browse images »