Would you like to become a sponsor?
Waldorf News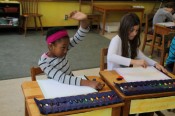 June 22, 2015
A new scholarship program at Aurora Waldorf School (AWS) has just completed its first year of implementation thanks to a generous anonymous donor. Six students in kindergarten to third grade who had previously attended "persistently lowest achieving" (PLA) Buffalo city schools are now AWS students all the way through eighth grade. As part of the school's mission to foster social responsibility in its students, AWS and the donor have partnered to begin this initiative as a direct reflection of that mission. The anonymous donor wished to give students in the city of Buffalo who could not afford a private school the opportunity to receive a rigorous education, in a stimulating and developmentally-appropriate environment. The donation helps to cover all expenses, including tuition, bus transportation from the city, lunch, and all fees and supplies. More »
Recent Jobs
View more jobs »
Newsletter Archive
Join the Mailing List!
Stay Connected…
Each week receive the Waldorf News Weekly Update, full of news, events, and more. Keep abreast of what's happening with Waldorf education.
Add a Job Listing
Waldorf Gallery

Featuring over 900 images of student work from around the world.
Browse images »