Would you like to become a sponsor?
Waldorf News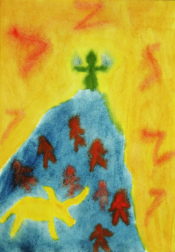 October 2, 2017
If Rudolf Steiner walked into a Waldorf school painting class today, what might he notice, and what might he say? (I don't wish to offend anyone who believes I'm being impertinent by putting words in Steiner's mouth, but my intention, through reference to what Steiner is recorded to have said, and also to what there's no record of him ever saying, is to make more immediate what would otherwise be dry.) Q. What about all that wet-on-wet watercolor painting? A. Believe it or not, I never said anything about that! I only said that the paint should be liquid. Yes, it's a way to keep the paper flat and to have the colors bump up against one another in a beautiful way, but it's not necessary, and it's certainly not something to carry on year after year through elementary school. Q. What about paintings of one color only? A. Again, I never said anything about that! Why limit the children's experience? Is this a meeting of German rectitude and American Puritanism? That's not what I intended! I spoke about individual colors, of course, but every reference that I made to a painting exercise for children concerns at least two colors; a comparison, a contrast that can give rise to a feeling in a child's soul. Don't confuse the theoretical with the practical! And don't confuse my esoteric lectures for adults with my recommendations for teaching children. More »
Recent Jobs
View more jobs »
Newsletter Archive
Join the Mailing List!
Stay Connected…
Each week receive the Waldorf News Weekly Update, full of news, events, and more. Keep abreast of what's happening with Waldorf education.
Add a Job Listing
Waldorf Gallery

Featuring over 900 images of student work from around the world.
Browse images »