Would you like to become a sponsor?
Waldorf News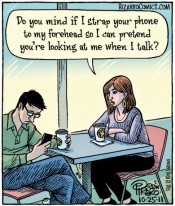 September 9, 2014
I've been a pediatrician for 20 years, and I thought I'd seen it all. But not long ago when a father brought his 2-year-old into my clinic, something happened that has me deeply concerned. Upon entering my examining room, I found father and son sitting together, eyes downcast, each silently scrolling and tapping on smartphones. During my initial exam, the father directed most of my questions to his frowning toddler, who indicated that his ears hurt, and I quickly discovered that both eardrums were red and inflamed. "Guess what?" I said to my small patient. "Your ears hurt because you have an ear infection. But we can give you medicine and make you better." I smiled at the little boy and his father. Immediately, the child picked up his phone and pushed a button. "Siri," he asked carefully. "What is an ear infection?" More »
Recent Jobs
View more jobs »
Newsletter Archive
Join the Mailing List!
Stay Connected…
Each week receive the Waldorf News Weekly Update, full of news, events, and more. Keep abreast of what's happening with Waldorf education.
Add a Job Listing
Waldorf Gallery

Featuring over 900 images of student work from around the world.
Browse images »