Would you like to become a sponsor?
Waldorf News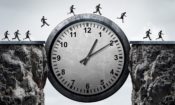 October 23, 2017
The cycle of day and night on our planet is age-old and inescapable, so the idea of an internal body clock might not sound that radical. In science, though, asking the questions "why?" and "how?" about the most day-to-day occurrences can require the greatest leaps of ingenuity and produce the most interesting answers. This was the case for three American biologists, Jeffrey Hall, Michael Rosbash and Michael Young, who earlier this week were awarded the Nobel in medicine or physiology, for their discovery of the master genes controlling the body's circadian rhythms. The first hints of an internal clock came as early as the 18th century when the French scientist Jean-Jacques d'Ortous de Mairan noticed that plants kept at a steady temperature in a dark cupboard unexpectedly maintained their daily rhythm of opening and closing their leaves. However, De Mairan himself concluded this was because they could "sense the sun without ever seeing it". More »
Recent Jobs
View more jobs »
Newsletter Archive
Join the Mailing List!
Stay Connected…
Each week receive the Waldorf News Weekly Update, full of news, events, and more. Keep abreast of what's happening with Waldorf education.
Add a Job Listing
Waldorf Gallery

Featuring over 900 images of student work from around the world.
Browse images »