Would you like to become a sponsor?
Waldorf News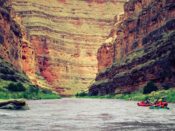 September 19, 2016
Do you know that feeling when you get home from a life-changing trip, and you try to share your experience with your family and friends, hoping they can somehow relate? How do you find the right words to describe all that you saw, and did, and felt? Well, that's how it was for me last spring when my classmates from Marin Waldorf School and I returned from an incredible 10-day Deer Hill field trip through the American Southwest. As we departed Deer Hill's basecamp for home, waving goodbye as we traveled down the bumpy gravel road, I still remember hearing a little voice inside myself saying this would not be the last time I would be in this beautiful place. More »
Recent Jobs
View more jobs »
Newsletter Archive
Join the Mailing List!
Stay Connected…
Each week receive the Waldorf News Weekly Update, full of news, events, and more. Keep abreast of what's happening with Waldorf education.
Add a Job Listing
Waldorf Gallery

Featuring over 900 images of student work from around the world.
Browse images »