Would you like to become a sponsor?
Waldorf News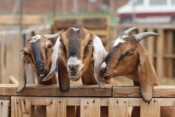 August 3, 2014
It takes a special kind of community to support a farmer who wants to take an acre-and-a-half, road-base parking lot and nurture it into an urban farm with biodynamics. At Mountain Song Community School, a public charter school that follows Waldorf methods in Colorado Springs, Colorado, such a community exists and is pulling together to raise awareness concerning a priority for all of us — our food and how its grown. Now, when you want to grow things au naturale, you need soil. And if you don't have it, you grow it — at least that's what this farmer thinks. To do that, we started our first year with sixty straw bales, sprayed them with Demeter-certified nutrients from Progress Earth, and grew a small amount of produce directly in those bales. Come December, that used straw was the base for our fifteen-foot-diameter by seven-foot-tall compost windrow. The other main contributor was compost from our all-organic food program, layered with the used bedding and animal manure from our chickens, rabbits, and goats. That pile had the biodynamic preparations inserted into it this May, was turned the end of June, and will be used in September. More »
Recent Jobs
View more jobs »
Newsletter Archive
Join the Mailing List!
Stay Connected…
Each week receive the Waldorf News Weekly Update, full of news, events, and more. Keep abreast of what's happening with Waldorf education.
Add a Job Listing
Waldorf Gallery

Featuring over 900 images of student work from around the world.
Browse images »