Waldorf News
World of Waldorf Video Series: "Why Waldorf?" – The Marin Waldorf School, A Film by Paul Zehrer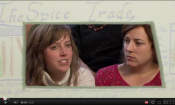 This new film by Paul Zehrer is a window into the wonderful educational and community life at the Marin Waldorf School in California.
The new short film, "Why Waldorf?" was inspired by a group of parents who saw a real need to effectively communicate 'why' Waldorf education has become so relevant and important to the 21st Century. A highly informative and emotionally engaging portrait, "Why Waldorf" includes interviews from teachers, students, alumni, parents, doctors, authors and scholars, combined with beautiful and compelling visuals of students in action, stunning artwork, and alumni who express their poised and optimistic take on the future.
Like many other Waldorf schools around the country and world, The Marin Waldorf School had struggled to effectively communicate its "story" – as a school, community, and how it manifests the philosophy of Rudolph Steiner. Since its release, the film has engaged students, parents, teachers, administration, and the international community of Waldorf schools in dynamic conversations about this unique and relevant philosophy on educating our children for the 21st Century challenges they will face.
Learn more about the Marin Waldorf School here.