Would you like to become a sponsor?
Waldorf News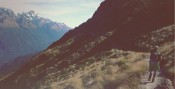 October 30, 2015
We're going to walk the entire length of New Zealand. Somewhere Inbetween is a feature length documentary following the journey of four friends as we walk the length of New Zealand from Cape Reinga to Bluff for five months, covering 3,000 kilometres. Why? Adventure. Discovery. Exploration. Celebration. The challenge. Not one of us has done anything like this before; we don't consider ourselves the 'outdoors' types, but when we leave our lives completely behind for 5 months to live on the road, everything is going to change. The Te Araroa trail stretches 3000 kilometers across New Zealand starting at the northernmost tip of the North Island and finishing in the Southern Lands of Bluff. During its descent down the islands, the trail passes through all of the geographically unique landscapes that makes New Zealand so diverse. From the sands of Ninety Mile beach, the archetypal farm lands of the central North, the meandering Whanganui River, the Southern Alps and the High Country, the list includes deserts and snow, mountainous forest and grassy plains, and we will see it all. More »
Recent Jobs
View more jobs »
Newsletter Archive
Join the Mailing List!
Stay Connected…
Each week receive the Waldorf News Weekly Update, full of news, events, and more. Keep abreast of what's happening with Waldorf education.
Add a Job Listing
Waldorf Gallery

Featuring over 900 images of student work from around the world.
Browse images »