Would you like to become a sponsor?
Waldorf News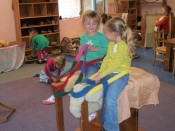 February 28, 2016
Hasbro is a leading global play products company based in Pawtucket, Rhode Island, with many well known brands, including Play–Doh, Transformers, Scrabble and My Little Pony. Most of us will remember games such as Monopoly and Candy Land from our own childhoods, but Hasbro has since added a new generation of electronic toys and digital gaming , and continues to look for new ways to play. Meadowbrook Waldorf School alumna Ceileidh Siegel is currently the company's Director of Imbedded Innovation and leads a team working on design ideas intended for production 3-5 years from now. Ceileidh says her job is a mix of the Tom Hanks role in the movie Big, where a 12 year old wishes himself into an adult body then lands his dream job of professional toy tester, mixed with Shark Tank, the television show that ruthlessly investigates the viability of new product ideas. In 2015, Ceileidh's team hosted a Hasbro "Summer Camp" focusing on the reinvention of two core brands. Her group worked with members of the company's Marketing, Design, and Engineering, teams with the intention of providing timeless favorites, Baby Alive™ and FurReal Friends™, with a timely new twist. These lines feature play characters for young children that encourage patterns of role play and imagination. As a foundation for their work, Ceileidh felt that an in depth perspective on children's innate need for play was essential for the group. She particularly wanted them to understand the importance of nurturing role play and what it brings to the developing child. Having experienced play–based Waldorf education at Meadowbrook from early childhood until graduating from grade 8 in 1997, she decided to invite MWS kindergarten teacher Su Rubinoffto share her expertise with the Hasbro group. Su has worked with children for more than 40 years and holds a Master of Science degree in remedial education. She has devoted many years to the study of child development, investigating the connection between sensory and academic learning. More »
Recent Jobs
View more jobs »
Newsletter Archive
Join the Mailing List!
Stay Connected…
Each week receive the Waldorf News Weekly Update, full of news, events, and more. Keep abreast of what's happening with Waldorf education.
Add a Job Listing
Waldorf Gallery

Featuring over 900 images of student work from around the world.
Browse images »