Would you like to become a sponsor?
Waldorf News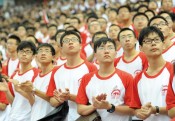 March 20, 2015
The southern city of Guangzhou has long held the largest eye hospital in China. But about five years ago, it became clear that the Zhongshan Ophthalmic Center needed to expand. More and more children were arriving with the blurry distance vision caused by myopia, and with so many needing eye tests and glasses, the hospital was bursting at the seams. So the centre began adding new testing rooms — and to make space, it relocated some of its doctors and researchers to a local shopping mall. Now during the summer and winter school holidays, when most diagnoses are made, "thousands and thousands of children" pour in every day, says ophthalmologist Nathan Congdon, who was one of those uprooted. "You literally can't walk through the halls because of all the children." East Asia has been gripped by an unprecedented rise in myopia, also known as short-sightedness. Sixty years ago, 10–20% of the Chinese population was short-sighted. Today, up to 90% of teenagers and young adults are. In Seoul, a whopping 96.5% of 19-year-old men are short-sighted. More »
Recent Jobs
View more jobs »
Newsletter Archive
Join the Mailing List!
Stay Connected…
Each week receive the Waldorf News Weekly Update, full of news, events, and more. Keep abreast of what's happening with Waldorf education.
Add a Job Listing
Waldorf Gallery

Featuring over 900 images of student work from around the world.
Browse images »