Would you like to become a sponsor?
Waldorf News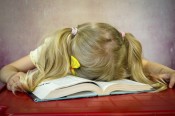 May 1, 2016
"There is no evidence that any amount of homework improves the academic performance of elementary students." This statement, by homework research guru Harris Cooper, of Duke University, is startling to hear, no matter which side of the homework debate you're on. Can it be true that the hours of lost playtime, power struggles and tears are all for naught? That millions of families go through a nightly ritual that doesn't help? Homework is such an accepted practice, it's hard for most adults to even question its value. When you look at the facts, however, here's what you find: Homework has benefits, but its benefits are age dependent. For elementary-aged children, research suggests that studying in class gets superior learning results, while extra schoolwork at home is just . . . extra work. Even in middle school, the relationship between homework and academic success is minimal at best. By the time kids reach high school, homework provides academic benefit, but only in moderation. More than two hours per night is the limit. After that amount, the benefits taper off. "The research is very clear," agrees Etta Kralovec, education professor at the University of Arizona. "There's no benefit at the elementary school level." More »
Recent Jobs
View more jobs »
Newsletter Archive
Join the Mailing List!
Stay Connected…
Each week receive the Waldorf News Weekly Update, full of news, events, and more. Keep abreast of what's happening with Waldorf education.
Add a Job Listing
Waldorf Gallery

Featuring over 900 images of student work from around the world.
Browse images »