Would you like to become a sponsor?
Waldorf News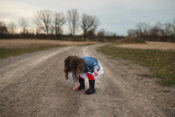 September 29, 2016
Our friend Julia moved to a small free-range pig and poultry farm when her first child, Jedd, was a preschooler. When her second baby was born, she would strap him on her back every morning so that she could go to the chicken coop to pick up eggs. Jedd would chase and ride the chickens—and sometimes taste their feed and touch the fresh eggs. A couple of times, she even caught him chewing on something he had picked up from the ground. At first, all of this caused Julia to freak out. But once she realized that Jedd wasn't getting sick from these encounters with the chickens, she relaxed a bit. Her second child, Jacob, soon followed suit and never hesitated to get dirty on the farm. She once found him knee-deep in a cesspool of pig waste. Her early worries that her children were going to contract diseases from all this messiness dissipated, and she was pleased to see that they remained healthy. Was Julia being an irresponsible parent—or might we all have something to learn from her example? More »
Recent Jobs
View more jobs »
Newsletter Archive
Join the Mailing List!
Stay Connected…
Each week receive the Waldorf News Weekly Update, full of news, events, and more. Keep abreast of what's happening with Waldorf education.
Add a Job Listing
Waldorf Gallery

Featuring over 900 images of student work from around the world.
Browse images »