Would you like to become a sponsor?
Waldorf News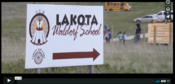 July 10, 2017
The Lakota Waldorf School was founded in 1993 by a group of Lakota parents committed to an alternative vision for their children's education – one that includes traditional Lakota values. The founders of the Lakota Waldorf School recognized that for a school to succeed on the reservation it must help the Lakota children to connect with their roots and to develop skills necessary to lead healthful, fulfilling lives in the future. The video was produced and directed by James Brazel of Beautiful Life Films. It was filmed in May and was just released a few weeks ago. James would love to talk to you about a video for your school, anywhere in the US, anywhere in the world. Contact him at [email protected] See more of his work at beautifullifefilms.com. More »
Recent Jobs
View more jobs »
Newsletter Archive
Join the Mailing List!
Stay Connected…
Each week receive the Waldorf News Weekly Update, full of news, events, and more. Keep abreast of what's happening with Waldorf education.
Add a Job Listing
Waldorf Gallery

Featuring over 900 images of student work from around the world.
Browse images »