Waldorf News
New Video from The Lakota Waldorf School on the Pine Ridge Reservation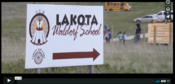 The Lakota Waldorf School was founded in 1993 by a group of Lakota parents committed to an alternative vision for their children's education – one that includes traditional Lakota values. The founders of the Lakota Waldorf School recognized that for a school to succeed on the reservation it must help the Lakota children to connect with their roots and to develop skills necessary to lead healthful, fulfilling lives in the future.
The video was produced and directed by James Brazel of Beautiful Life Films. It was filmed in May and was just released a few weeks ago. James would love to talk to you about a video for your school, anywhere in the US, anywhere in the world. Contact him at beautifullilfefilms@gmail.com. See more of his work at beautifullifefilms.com.
Lakota Waldorf School | Pine Ridge Indian Reservation | South Dakota from Beautiful Life Films on Vimeo.
Learn more about The Lakota Waldorf School at lakotawaldorfschool.org. There's also a donation page there, if you want to help in that way.