Waldorf News
Nine days in Haiti: Waldorf School students find deep meaning on service trip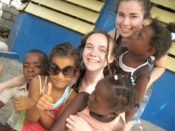 By Steve Gilbert
They flew to Haiti to help others. They journeyed home on an odyssey of self-discovery.
Four seniors at Monadnock Waldorf School in Keene prepared for months, raising funds and learning about Haiti, steeling themselves for a service project that they knew would be nothing like they have experienced before.
But, really, books and videos and discussions with those who have been are mere primers. To see Haiti, to listen to Haiti — to smell Haiti — stokes a sensory overload that is common among visitors. That first anarchic drive through Port-a-Prince itself, the capital of the Caribbean nation acknowledged as the poorest in the Western Hemisphere, invariably leaves an indelible impression.
"It's hard to explain," said Tyler Bell of Keene, four days after returning, studiously weaving through his feelings. "I see how we live now, and our surroundings, in a way I've never seen it before. What felt familiar before feels foreign."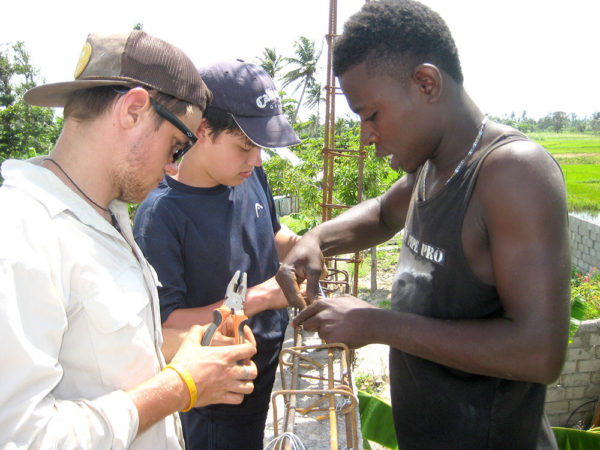 Tyler Bell, left, and Tucker Haddock of the Monadnock Waldorf School help to build a food storage area in Haiti
Last week Bell, seniors Tucker Haddock of Dublin, Skylar Watson of Fitzwilliam and Leydi Walle of Keene joined teacher and senior class adviser Karl Schurman for a roundtable to talk about the trip. Marie-Douce Dorion-Rippe, who teaches circus arts at the Waldorf School, also went. They are still processing their nine days in Haiti, sorting through the emotions of immersing themselves among the people of the Caribbean island considered the poorest in the Western Hemisphere.
They searched for words to convey their myriad perceptions, their ability to adopt an inner and outer flexibility, according to Schurman. But there's no erasing the countenance of abject poverty they witnessed and are helpless to alleviate.
Walle says she can't get out of her mind "the insane amount of trash everywhere," roadsides filled with sewage, Styrofoam and people. The chaotic, seven-hour drive in a van from the airport through Port-a-Prince and on to the southwestern part of the country — about 120 miles by car — was their rudimentary introduction to the country. "Chaos" was their unanimous single-word description of their first impressions.
They were stopped by police for not having the right stickers on the vehicle and endured hopelessly gnarled traffic on rutted dirt roads that don't have traffic laws, blocked by abandoned, wrecked cars. A couple of people sat on the roof of the van, as those inside urged the driver to slow down. They endured constant shouts of "blan," the customary greeting toward non-Haitians, not always friendly.
And the heat and humidity in the tropics was stifling.
The group's mission was to help re-build and re-supply L'ecole du Village, a Waldorf school with about 100 students ages 2 to 14 in the southwestern part of the country that was leveled by Hurricane Matthew last October. The school building in Torbeck, a small seaside suburb of Les Cayes, was severely damaged. The garden, its food source, was destroyed. For some kids, the school provided their only meals of the day.
"The need is great," Schurman said.
Once they started to acclimate, the Waldorf students found their footing. They slept on mattresses, protected by mosquito nets, in the school's guest rooms. They wore head lamps, since there is no electricity.
As an outsider, Schurman says it's tempting to view Haiti as "utter chaos," but he admired the creativity and entrepreneurship they encountered as the trip unfolded. "Everyone has to find a way. It has a vibrancy on that level," he said.
Bell and Haddock worked with a brick-and-mortar crew helping build the walls for a food storage room. Watson and Walle spent the week helping a group prepare to put on a circus show for the students. The Waldorf students brought suitcases full of toys and accessories for the circus show, yet underestimated the impact they would have.
The Haitian kids had never played with toys.
Schurman says they had to teach them how. "It's like life has squeezed all the life out of them," Schurman said. "Play unlocks intelligence."
The Monadnock Waldorf students often walked to the nearby beach in the evenings, accompanied by a dozen kids who clung to them and craved human contact. "At first, they were hesitant, but the minute the first person starts to touch you, they all want to touch you," Bell said.
At night, the students would talk among themselves about what they had seen that day, and the influence their visit was having on the kids. As the week wore on, conversations became even deeper, more meaningful. "We had long talks on how can we reconcile going back to our own lives," Haddock said.
They visited the island of Ile-a-Vache, about 6½ miles off the coast. It's a stunningly beautiful Caribbean island, yet the students said they felt a sense of guilt for leaving the Waldorf school, even for just one night.
Ile-a-Vache has a couple of tourist resorts, but the poverty is intense. They visited an orphanage caring for 70 children, some in wheelchairs, covered by flies. Walle says it was the hardest thing she's ever seen in her life. Watson said she just wanted to go off by herself and cry.
"We thought going would be a relief," Walle said. "But it ended up being very hard on us."
The final night featured an appreciation circle, a Waldorf School tradition, in advance of the long trip home. All four students said the journey will likely have a bearing on the rest of their lives, particularly putting their own problems in perspective and igniting an urge to volunteer.
Watson says she thinks a lot about how simply Haitians live compared to the extravagance of America, and that there's a beauty in that simplicity. Still, she says it's been difficult to re-acclimate.
"It was very difficult to see it in person," Bell said. "It was a powerful experience."
Bell and Haddock rode back to Port-a-Prince on the van's roof.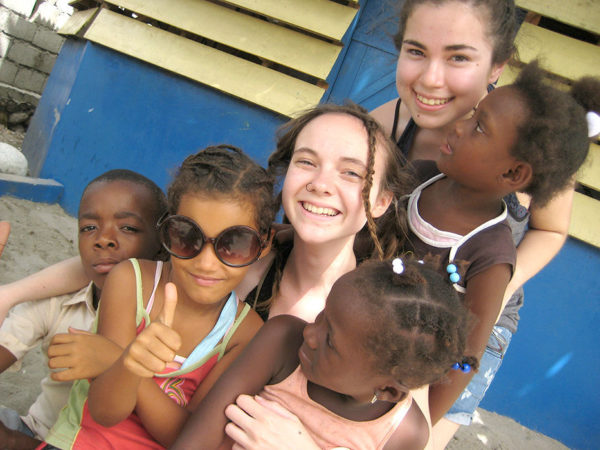 Skylar Watson, middle, and Leydi Walle join some of the Haitian children they worked with to smile for the camera
From The Keene Sentinel