Waldorf News
High Mowing School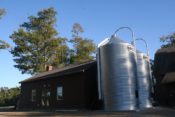 High Mowing Photo Gallery
High Mowing is set atop Abbot Hill in Wilton, NH. Our campus is 250 acres spanning from the top of the hill down to the Souhegan River. In the 1930s our founder, Beulah H. Emmet, bought a farm. In the spring of 1942 she began to convert the farm to a school, and in October of that year the doors opened. Though little of the original farm buildings remain, the campus still feels like the home it was all those years ago.

The Main Building was the barn of the farm bought by Mrs. Emmet. Inside are the Big Room, the Dining Room, administrative offices, and classroom space. In a connected wing are the College and Career Counseling office, the Student Lounge, the Eurythmy Studio, the Jazz Room, and a Photography Studio.

The Science and Technology Building was built in 2003, and houses classrooms and state-of-the-art laboratories. In these well-equipped spaces our students take block and track courses designed to prepare them for the 21st-century world.

High Mowing's two dormitories are home to nearly 70 boarding students. High Mowing was founded more than 70 years ago when Beulah Emmet converted her family country home into a boarding school. Now, well into the 21st century, that home-like atmosphere still exists.

The Art Department consists of a network of aesthetically inspiring, fully-stocked studios in a wide variety of disciplines including drawing, painting, pottery, metalwork, woodwork, batik, stained glass, clay sculpture, bookbinding, weaving, and digital arts.

Biomass Heating: The High Mowing community is dedicated to sustainable practices of agriculture, energy use, and land use.

The David Anderson Cabin for Peace and Social Justice is an outlet for social activism.

Rolling lawns and lush gardens fill the spaces between our buildings and dormitories. Our Horticulture and Naturalist programs are based in our local landscape, and many of our academic blocks and track classes likewise draw upon our surroundings for inspiration and context.

High Mowing is situated atop Abbot Hill in Wilton, NH, and many of our neighbors are sister organizations. Across the street, Pine Hill Waldorf School offers a N-Grade 8 Waldorf education. A Child's Nature provides full-day child care for children as young as 6 weeks old on Pine Hill's campus. Down the road is the longest-operating Community Supported Agriculture (CSA) Farm in the country, the Temple-Wilton Community Farm, and on the same property is the Hilltop Cafe, an eatery offering fresh meals made with local ingredients.
Want to learn more about High Mowing?Just click here.

Adam Hill '17 observes life through a prism in his Visual Physics block class.