Waldorf News
Waldorf 100 – The Film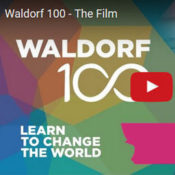 We reached out to Paul Zehrer, Waldorf 100's producer and director, over the weekend and he was kind enough to give us some background on the film. –Ed.
The point of this film is to introduce the concept of the upcoming Waldorf-100 Centennial in 2019-2020. The goal is to help families and schools around the world recognize that Waldorf education can, and does, have an important impact on the challenges we face in the world today.
Too often we get stuck focusing on our own school and its struggles, but there is a much larger ethos out there that we are all part of. Collectively we are working to change the world and make a better future.
The hope and aspiration of this Centennial event is not to simply have a big anniversary party. It's to launch Waldorf education into the 21st Century with bold new sense of confidence and commitment to the future – a future that our children will help determine.
Paul Zehrer, Producer & Director, Waldorf 100 – The Film