Waldorf News
Cultivating Connections to the Past and the Land at Whidbey Island Waldorf School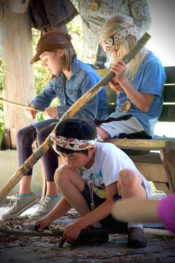 By Kate Poss
An annual "potlatch," hosted each May by the Whidbey Island Waldorf School in Clinton, WA brings indigenous traditions to life when students meet and learn from Native American elders. The potlatch is a traditional, ceremonial gift-giving feast practiced by indigenous peoples of the Pacific Northwest Coast.
Europeans used the word potlatch to refer to the Nootkan word p'alshit' which means "to give." Northwest coastal tribes hold potlatches each year to share their wealth, feast, dance and tell stories. Coastal tribes include Haida, Nuxalk, Tlingit, Tsimshian, Nuu-chah-nulth (Nootka), Kwakwaka'wakw (Kwakiutl), and Coast Salish. Their region extends from the coast of Alaska to British Columbia and Washington.

Waldorf teacher Angela Lindstrom hosts and directs annual potlatches
Honoring the tradition of our coastal Native Americans, WIWS teacher Angela Lindstrom directs and hosts the event each year for fourth grade students in Waldorf schools from Bellingham to Olympia. A teacher at the Whidbey Island Waldorf School, her cultural background includes Ojibwa and Cherokee ancestry. Over the years Lindstrom has cultivated a cadre of Native American elders who teach skills and traditions that leave the students awed in the end.
The elders include:
• Angeles Peña, a Navajo, who acts as master of ceremonies. Peña is a storyteller as well and has taught students how to make walking staffs
• Bonnie Pemberton, or Soaring Eagle Woman, who has come each year to teach students how to create drums
• Paul "Che oke ten" Wagner, an award-winning Native American flutist and Coast Salish member
• Sondra Simone Segundo, a Haida artist, singer and author
• Julie Pigott, an honorary elder who teaches Native American games

Paul "Che oke ten" Wagner, an award-winning Native American flutist, shares his music with Waldorf students
"These elders become like rock stars to the students," Lindstrom said. "In fourth grade curriculum, students study the history of their state. It is wonderful that they study our Native Americans. The benefit of a potlatch is that the people are alive (and bring their traditions with them) today. If you just read about history, you don't get a chance to meet these wonderful people. We hope that by understanding other cultures, our students come away with a way to look at different people with understanding and without judgment."
Students were asked to escort the elders and served them during meals. In return, they learned to carve, play flutes, make drums, and play traditional games. It was clear, while the students talked immediately following the potlatch, that their enthusiasm ran high.
"Being with the elders and serving them was fun," said Priscilla. "I found the potlatch special—it felt like I made lots of new friends when we waited in line for our food and played games. Our class was the last to get food because we were the hosts."
Hazel added: "I liked it. It was both fun and really interesting to see the ways of all the cultures. I liked seeing the elders. I liked serving the elders."

Students learning to carve staffs as taught by Angeles Peña

Staffs carved by students
Many of the students raved about the food prepared by Chef Christyn Johnson, who prepares healthy meals, often locally sourced, for the Whidbey Institute. "I very much liked the food," said Sterling. "I also liked carving…everything. I met a new friend."
During potlatch, students were assigned to different clans—wolf, bear, eagle, raven and orca. Adults were assigned to the salmon clan. Segundo taught students how to draw their clan animals and they showed them proudly after the event. "I really liked the paintings," said Ruari."

Sondra Simone Segundo teaches students how to create clan animals

WIWS fourth grade students and their clan animal

More clan animal drawings by WIWS fourth grade
Susan Jones, whose fourth grade hosted the potlatch last year, has taught at other Waldorf schools in the Bay area and said she originally came to Whidbey Island to retire, but was asked to take last year's class.
"I hadn't heard of potlatch and did not know what to expect," Jones said. "I was able to experience the reverence, beauty and sincerity of the elders who brought a depth of spirit. Sharing their spiritual path…this was a once in a lifetime experience. I think we all came away better."

Bonnie Pemberton, "Soaring Eagle Woman," teaches students to make drums
Norma Fickel, whose daughter Amber was in Susan Jones' fourth grade, volunteered at the event and said she was impressed by what Waldorf education can bring to families. "This beautiful way of teaching helps children grow. The elders gave wisdom through their stories."

WIWS student drums made at Potlatch
Photos by Norma Fickel and Kate Poss.
Kate Poss worked as a library assistant at the Langley Library and recently retired. She was thrilled to work for three summers as a chef aboard a small Alaskan tour boat from 2008 to 2010 and continues working now as a personal chef. She was a newspaper reporter in Los Angeles as well.