Waldorf News
"Unplugged" on Purpose: The Waldorf School of Philadelphia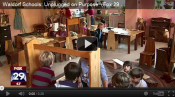 Elvis Presley's 1968 Comeback Special and The Beatles informal studio jams documented in the 1970 film Let It Be were both precursors of the "Unplugged" concept. There were a series of highly-publicized "unplugged" performances in the late 1970s and early 1980s including appearances by Pete Townshend at The Secret Policeman's Ball and similar performances by Sting, Phil Collins and Bob Geldof in 1982. The first rock artist to perform in an "unplugged" mode on MTV was Jethro Tull, who, on November 17, 1987 as an acoustic trio (Ian Anderson, Dave Pegg, and Martin Barre), performed a portion of "Serenade to a Cuckoo" and "Skating Away (On the Thin Ice of the New Day)".
Although "unplugged" entered our society at that time, it's hard to imagine 25 years ago being able to foresee "unplugged" being used to describe a Waldorf school.
Nevertheless, time marches on and "unplugged" is a fairly apt way to describe a school with no computers, no batteries, nothing that beeps–
"Totally Unplugged"
Learn more about the Waldorf School of Philadelphia here.