Waldorf News
Creating New Worlds: Circus Arts for ASD Students at the Alabama Waldorf School in Birmingham by Cynthia Mwenja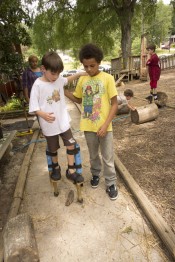 Circus arts equipment forms a riot of color in the space: stilts of various heights, ribbon sticks, yoga balls, hula hoops, rola bolas, and juggling balls.  Nearby, a balance beam, small trampoline, seesaw, and tumbling mat are also ready for action. While the setting may be typical for a circus arts class, the students and program are not: the students have all been diagnosed with Autism Spectrum Disorder (ASD).
The founder of this innovative program, Jennifer Cripps, holds a Spatial Dynamics Level One Certification and has taught movement for the last ten years at the Alabama Waldorf School (AWS).  She includes circus arts as a large part of her third grade curriculum. As a result of her training, Cripps became interested in the curative aspects of movement education and began to explore the idea of offering a therapeutic program at AWS. Local autism educator Renee Plata was asked be a consultant for the project. Plata is founder and Director of Puzzle Piece, an organization offering therapeutic services, classes, summer camp and structured skills and play groups for children with ASD and other developmental disorders. Her program uses the Greenspan floor time model to work with cognitive training for the autistic community.
Cripps and Plata began to search for ways they could work together. Out of their dialogue emerged a unique model which uses Waldorf students as peer mentors in ASD circus arts classes at Puzzle Piece. This model allows ASD children who often have little interaction with their age-mates to work and communicate with neuro-typical peers.  It gives their young mentors experience as leaders and a chance to get to know ASD kids as individuals. The children generally work together once a week; depending upon their abilities, Cripps may schedule no more than two or three ASD students with two or three mentors. Even that small number can be overwhelming for some ASD children, so "sometimes it's just me, an ASD student, and a peer mentor – one on one on one," Cripps says.
Cripps works with four- to nineteen-year-olds whose diagnoses range from low-functioning autism to high-functioning Asperger's, and they all present ASD differently. While all of the kids can walk, some have poor muscle control and weak balance. Some have good physical coordination but minimal social interaction. They all quickly learn the circus elements and will engage with Cripps and the peer mentor through the task, even if they don't use words. For example, one nineteen-year-old could mimic movements perfectly, but had no spontaneous speech. Cripps' goal in this student's case will be to continue building her skills, and with a peer mentor, move toward useful verbal communication.
When asked about how she decided to introduce circus to her ASD students, Cripps responds, "I have a background in dance, so I considered this, but dance is a personal experience. Circus is much more about teamwork and lends to pairing the "typical" peers with ASD students. Dancers would be distracted in their own work if they had to assist another student. A circus student is challenged to include the skills of the group in an act; circus is all-inclusive. I already had been teaching circus arts in my Movement curriculum at the Alabama Waldorf School and have students who, of course, LOVE it. It was an easy transition to look at students with special needs and to see how circus arts could build self-esteem by both boosting their strengths, and strengthening their weaknesses."
At the beginning of each class, the peer and the ASD student set a picture schedule – choosing among laminated clipart icons and placing them on a velcro board. They can pick as many as eight elements, and will spend five to ten minutes on each skill in their hour-long session together. In addition to the circus equipment in the room, the students may also choose to go outside and swing, to work with manipulatives at the table, or to try a bit of clowning. Cripps continues to encourage ASD students and peer mentors to try new skills. She uses their interest in working with the tangible "toys" to help them develop balance, spatial awareness, body geography, problem-solving and coping skills, team building, and basic social interactions.  Depending on the level of ASD child, sometimes mimicking and making up movements for a peer to follow is a challenge, and making one's own movement with a ribbon stick can be beyond comprehension.
The first priority at all times is safety. Much of Cripps's instruction is explicitly spoken out loud, and then modeled by the Waldorf peer mentors. Each piece of equipment has clearly communicated guidelines to make the participants feel safe and comfortable – important for any class of course, but crucial for an ASD student who, without a solid sense of safety, simply won't participate.
Since a hallmark feature of ASD is impaired social interaction, the second priority in this program is promoting social connections. An ASD individual's skill base may be high, but he or she probably doesn't know how to play interactively with other children. ASD children usually spend a lot of time with adult teachers, para-professionals, and parents, but not much time at all interacting with same-age peers. "We start by trying to get the ASD child to realize there is another kid in the room!" Cripps says. The students also spend a good deal of time working on hearing and following directions – this is a very difficult but important challenge for many ASD kids: If they can't do this, they won't be successful in any setting. Sometimes, the best success in the Puzzle Piece circus class is when everyone is able to sit on their brightly colored spots and wait for someone else to have a turn – as happened when the class recently presented a circus arts demonstration at an autism awareness event. When Cripps turned to her students, and saw all of them sitting on their spots, waiting for their turns, she proudly announced to her audience, "Ta-da! This can be one of the hardest skills for them to master!"
How have the Waldorf peer mentors reacted? "They've treated it like a community service project. They're excited to go, but they know it's work," Cripps reports, "They've made friends with these kids who have few chances to make friends in other settings." One mentor's mother asked Cripps recently, "What have you been doing? My daughter has become more helpful, conscientious, and responsible since she's started being a mentor in your program." Another mentor's mother likewise affirms, "My daughter sees these kids as individuals with quirks, not as terribly different or having a label."
Parents of ASD kids pay for these classes out of pocket, but they overwhelmingly say it's more than worth the cost, both for the measurable developmental outcomes as well as less quantifiable ones. Jenny Jones, mother of ASD son Hunter, states, "Jennifer creates new worlds through her circus program – a program that not only encourages physical play, team work, and good old-fashioned fun, but also nurtures each child's imagination through role-playing, walking on stilts, and utilizing trampolines and balance beams, just to name a few of her tools. Our six year-old truly embraces the program. He sings, dances, laughs, and shares – all things that do not come naturally to him. He has benefitted tremendously from the program and we'll be with Jennifer as long as she'll have us!" Cripps has designed the program to be open-ended; students may continue as long as they like, and she hopes that higher-functioning ASD students may eventually become peer mentors for lower-functioning ones.
Says Plata, "We in the autism community are constantly looking for ways to actively engage our children with their peers. This program has offered a unique experience that does just that and at the same time has all the children involved working on body awareness and sensory processing. Working with Jennifer has been a rewarding experience. Together we would like to see this opportunity to grow and to be embraced by the therapeutic community serving these children worldwide."
One in a hundred and ten American children is being diagnosed with ASD right now, and the numbers are increasing by almost twenty percent annually. "These are people we will be interacting with all of our lives," Cripps explains.  "Isn't it nice to be able to take the 'scary' out of meeting and relating to people on the spectrum?" Her program helps all of those involved – the ASD students, the Waldorf peer mentors, and the communities in which they live – to grow in deeply personal ways. These students may have a future juggling on stilts, or maybe a future simply enriched by having learned to work with others despite developmental differences. Whatever their futures may hold, their lives have definitely been brightened by shared experiences of laughter, play-based learning, and fun.
Cynthia Mwenja lives in Birmingham, Alabama with her husband and their five girls and writes about parenting, Waldorf Education, and Restorative Justice. She has been both teacher and administrator at the Alabama Waldorf School.  The Mwenjas have been a Waldorf family for the past fourteen years, and anticipate enjoying having children enrolled at AWS for the next eleven years, as well.  You can find more about AWS online at AlabamaWaldorf.org.