Waldorf News
Waldorf Education in Costa Rica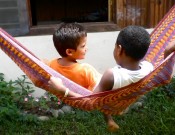 by Ancel Mitchell
Imagine a typical kindergarten morning: the sun shines in through an open window onto a wooden floor where baskets of wooden blocks are being used to create a forest scene. The kindergarten assistant is chopping vegetables helped by four busily happy children.  Someone is nursing a baby and having tea with her friend. Outside some small firemen are rushing to put out a fire roaring in the sandbox. The teacher is watering plants helped by eager gardeners. A typical, wonderful scene, something one could see peeping into any Waldorf kindergarten.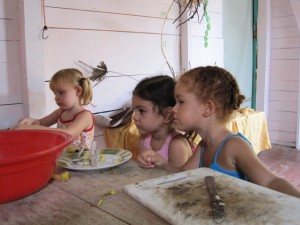 This one happens to be in Talamanca, the poorest yet most diverse and culturally abundant region of Costa Rica. The kindergarten is Sea Heart Kindergarten, a young Waldorf initiative in our second year. The children are an incredible blend of cultures: Hispanic, Afro-Caribbean, Indigenous BriBri, Central, South and North American and European. Between our children and Faculty we represent twelve cultures speaking eight languages and several dialects. Most of our children are bilingual, themselves from culturally blended families, some are trilingual. We teach in both Spanish and English.
We are one of five Waldorf Initiatives in Costa Rica. All five were visited last month by Joyce Gallardo and Teresa Savel, our two mentors from the US. Joyce and Teresa traveled between the schools bringing a refreshing  Anthroposophical  breeze to our tropical climate. All schools gathered for a weekend workshop on the Four Lower Senses, taking time during the month long mentoring visit to come together for this wonderful pedagogical experience. We all are so grateful for the insights, wisdom and reflections that Joyce and Teresa shared.
Waldorf education is relatively new in Costa Rica, the first initiative was begun in the late 1990s, but the oldest current school is in Turrialba, a beautiful agricultural valley nestled between mountains and volcanoes. Now in its ninth year, the Turrialba school is the only initiative to offer grades, working with the State Department of Education, Turrialba is bravely lighting a path for all other initiatives. Just as Costa Rica has many different climates and eco-systems, so each school has its own distinct flavor: Coronado is on a goat farm high in the mountains; Liberia's two programs are in the hot, dry Pacific northwest with its long dry season and monsoon months; Turrialba is a temperate green valley and Sea Heart lies between the Caribbean Sea and rainforest.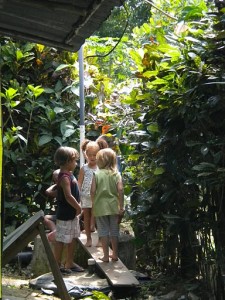 Our teachers are variously trained and experienced with three currently enrolled in Waldorf Teacher Training programs in Mexico and South America. For two years the Sacuanjoche Kindergarten in Granada, Nicaragua has hosted seminars with Ines Spittler, a founding member of the South American training. Workshops and mentoring for the grades are given by the Sea Heart Administrator who has fourteen years teaching experience in Waldorf Schools. We are very blessed to have funding for training and mentoring from the 'Internationaal  Hulp Fonds', a Dutch Anthroposophical organization interested in developing Waldorf Education in developing countries. It is a blessing also to have colleagues in Costa Rica who are on the same path and share a love for and dedication to Waldorf Education: all five initiatives meet together at least twice a year and Sea Heart will shortly host the first artistic and biographical work retreat.
While Waldorf Education is thriving in Mexico and Columbia with established schools and training centers, Central America is just beginning to attract interest and support. The Caracol School in Guatemala, Sacuanjoche in Nicaragua, Sea Heart, Turrialba, Coronado, La Casita de Sol and El Jardín de Amor in Costa Rica along with a small initiative beginning in El Salvador, are all working towards bringing Waldorf Education to the children and families of this region which holds the Americas together.  It is a very special place.
The window the sun shines through has no glass, our school is in a small typical Caribbean house, sun yellow and sea blue with wooden floor and walls and a tin roof.  The forest of blocks is the rainforest, ever present, lurking around us, its noise and heat and humidity, smells, tastes and textures permeating everything. The etheric forces are very strong and we feel them support and weigh us simultaneously. The tea being shared is hibiscus flower and lemongrass picked from the hedge which backs the school yard. The small firemen put out the fire with buckets of water sloshed from our rain barrel, thrown over the black sand we gathered from the black sand beach 200 yards from our school. The vegetables the children help prepare are camote, katuk and tomato from our garden.  The teacher waters our pineapples, papaya and coconut palm, our loofah and ginger and our special marigold and rose coaxed into living in this tropical garden.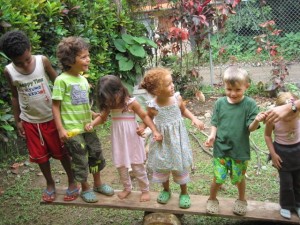 We all welcome visitors and volunteers from our global neighbors. We welcome donations  of materials or funds to support scholarship programs. We welcome your interest, your questions, your prayers and blessings. For any of the above please feel encouraged to write to Ancel Mitchell at Sea Heart School:
or visit our website: http://seaheartschool.blogspot.com
With appreciation and warm tropical greetings,
The Waldorf Initiatives of Costa Rica